Came across a legendary tweet from a year ago that you want to share with others? Well, Twitter just made it easier! Now you can (finally) retweet your own tweets!
The social network had announced this update last month, along with several other changes. This self-retweet update means that users will no longer have to copy and paste their old tweet's URL, instead they just have to click on the 'retweet' button. It makes it easier for users to quote themselves, which allows them to embed a tweet while writing a new tweet.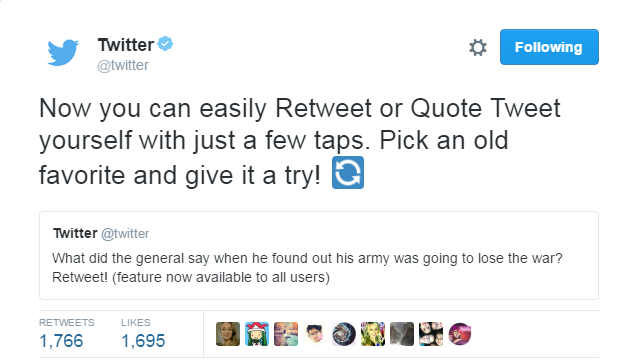 How did Twitter users respond to the self-retweet option?
While this Twitter news sounds good for advertisers, it might not do well with our timelines. Twitter users are treating this new Twitter update with skepticism since it will just increase the narcissism already prevalent on the networking site. And not to forget that users have been looking forward to an 'edit tweet' option, which Twitter doesn't seem to be developing anytime soon.
Along with this change, Twitter has also increased security when it comes to blocked users. Blocked users won't be able to see a person's tweet and tweets from the blocked user won't appear on the blocker's timeline. Along with this, users won't be able to see tweets from the blocked user even if someone they follow retweets them.
We don't know about you, but we are already dreading the self retweets on our timelines! Watch out for the self-obsessed!