When was the last time you actually watched an Indian television show? It's been a while, hasn't it? For us, it has been ten years since we enjoyed watching something on TV. We mean, everything is just too dramatic or too done-to-death to get anyone hooked to the recent shows. The last we truly liked and could watch over and over was, yes, you guessed it right: Sarabhai vs Sarabhai!
And imagine our excitement levels when we heard about the Sarabhai cast reunion at Satish Shah's house! The producer of the show, J.D. Majethia, tweeted a picture of the cast of this Hindi comedy show along with the caption, "Sarabhai family at satish ji 's place.... Some good news for fans on its way." We just hope the good news means they are coming back for a new season, because there can never be enough episodes of Sarabhai vs Sarabhai!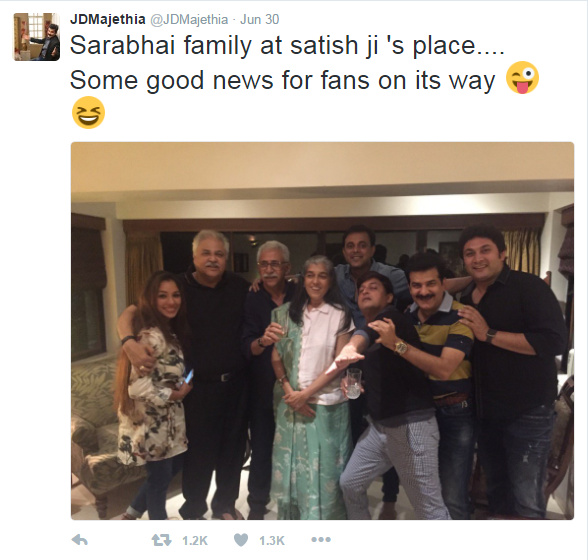 While we wait for them to announce what the 'good news' is, we take a moment to gush over how much we have missed our favourite show:
Do you need to guess what reason number would be? No, because it's so obvious! We think we need to bow down to Ratna Pathak Shah for her role as Maya Sarabhai! So funny, so classy! Oh, if you are reading this on any phone except the iPhone 6S, you know what she would say? "That is so categorically middle class."

Source - utter.bewakoof.com
Admit it, we all loved Rosesh's poems, even if sometimes they were just really, really bad. Remember 'Jelly giri zameen par, to awaaz aayi plup plup'? Classic Rosesh! Oh, how we miss that momma's boy!

Source - fridaymoviezblog.wordpress.com
Although Monisha Sarabhai and Sahil Sarabhai often bickered with each other about things, they were also pretty romantic. Right from the first time they met to their arguments about Monisha's behaviour, the couple is just too cute to be true!

Source - bollywoodshaadis.com
"Hein? Hein? Hein?" Madhusudan fufa, Indravadan's brother-in-law is one of the funny characters that appear often in the show. Not only him, other characters like Dushyant Painter (aka electronics encyclopedia), Indravadan's sister, and even the maid Radhabai and manservant Vitthal are all EPIC in their own quirky way!

Source - missmalini.com
The best of the Sarabhai family? Who other than Indravadan Sarabhai? His antics have always been the main cause for our amusement, right from fighting over his diet with Maya to him harassing Rosesh to playing tricks on people! Satish Shah is pure brilliance!

Source - post.jagran.com
Here's a video of the cast singing the Sarabhai theme song:
Too much missing? Here are some of the best burns Maya Sarabhai has ever delivered!