For the first time ever, an Indian won the title of Mr. World 2016. Rohit Khandelwal of Hydrebad has won this prestigious title at the grand finale of the competition held at the Southport Theatre & Convention Centre in Southport in U.K.
The Training
As per reports, Rohit had undergone rigorous physical training to gain optimum levels of fitness without turning bulky. Along with the physical training sessions, he also had to go through various grooming sessions. He was also given special football and circuit training to increase his endurance and perform the various physical challenges given to him at the pageant. Mr. Khandelwal and his competitors were put through five challenges that were supposed to test whether they were the world's most desirable man. After passing every challenge that was a part of this pageant, Khandelwal emerged a clear winner. Apart from the judgement panel, voting via mobile phones was also enabled which allowed the general public to be a part of the selection process. The model defeated 46 contestants from across the globe to be crowned the first Indian winner last night. Mr. Khandelwal, who looked dapper in a tuxedo by designer Nivedita Saboo, received a cash prize of $50,000 on winning. The event was hosted by Filipino superstar and Miss World 2013 Megan Young alongside professional singer and former Mr. England Jordan Williams and Frankie Cena of Canada.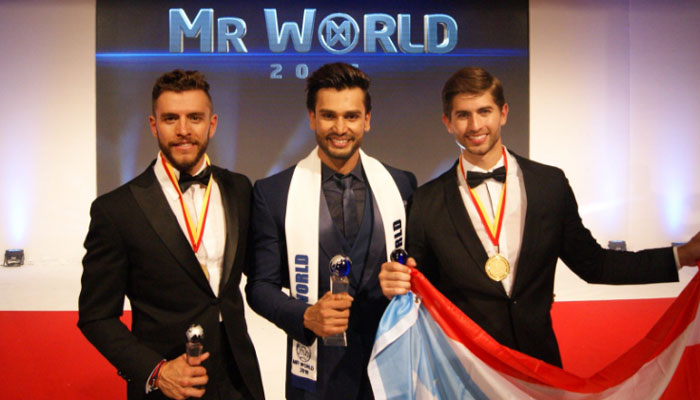 Background
Rohit Khandelwal, 26, from Hyderabad graduated from Aurora Degree College. He served as ground staff for SpiceJet and technical support assistant at Dell Computers prior to entering the modelling industry. "I still can't believe that I have won the Mr. World title. Being the first Indian ever to win this title internationally makes me immensely proud and ecstatic. It's a dream come true and am very thankful to the Miss India Organisation for giving me this opportunity and guiding me throughout my exciting journey. My family and friends have been a constant support for me and this wouldn't have been possible without the support of my well-wishers," he said. Khandelwal also competed for various sub-titles at the pageant like Mr. World Multimedia Award, Mr. World Talent, Mobstar People's Choice Awards, Mr. World Sports Event and won the Mr. World Multimedia Award. Congratulations for your win Mr. World Now Mr. Khandelwal has made India proud by winning this title! Who others have made India proud? We can tell you!