It's been almost a week since P.V. Sindhu showed her magic on the badminton court at the Rio Olympics. And not to forget Indian wrestler Sakshi Malik winning the bronze medal at the world's largest sporting event! Being the first Indian to ever reach the badminton finals at the Olympics and the first Indian female wrestler to ever win a medal respectively, we have every reason to celebrate their victories! Right?
Well, apparently UK journalist Piers Morgan doesn't think so! Known for his TV show Piers Morgan Live, the journalist took to criticizing India for celebrating India's achievements at the Olympics on Twitter. This is what he tweeted: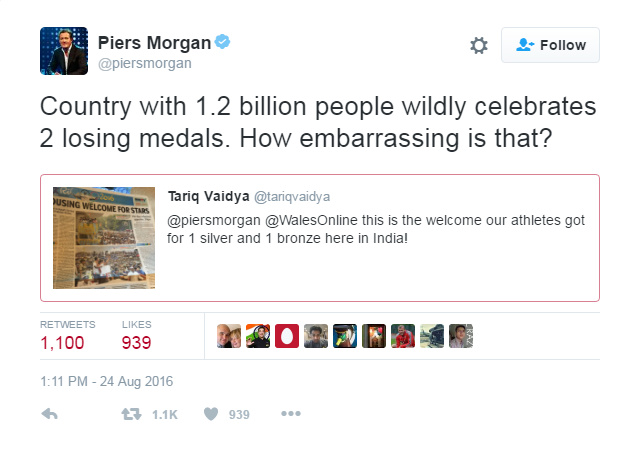 And then a little while later: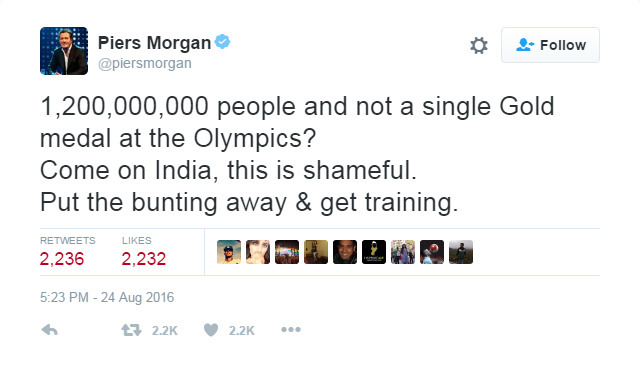 Indian Twitteratti Reacts
Like all other incidents, it doesn't take long for people on Twitter to start reacting, and so it happened with the Piers Morgan tweet as well! Chetan Bhagat and Suhel Seth were one of those people who took to trolling Morgan for his remark.
But the person who wins the cake for trolling him? None other than legendary Indian cricketer Virender Sehwag! The former Indian batsman tweeted a witty response to Morgan, asking whether it was embarrassing for England (the country that invented cricket) to play in the World Cup despite not winning it even once. Here's his response: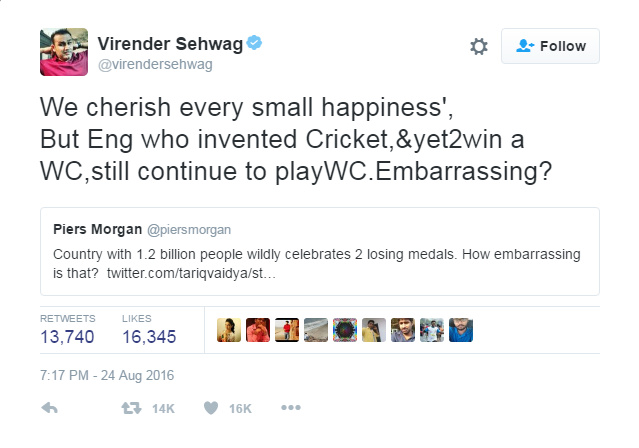 And that only led to a conversation between the UK TV personality and the Indian cricketer: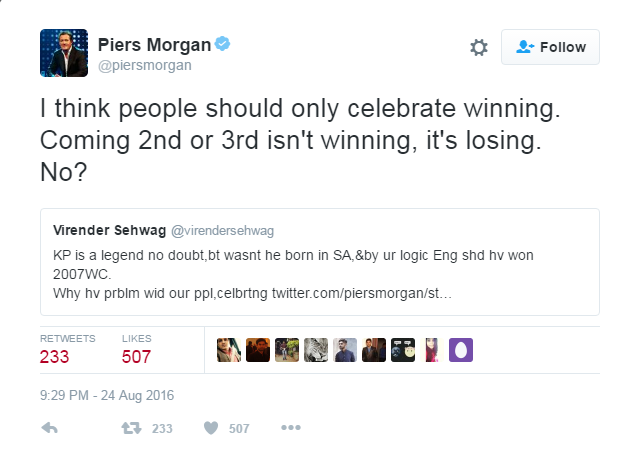 But hey, Twitter aside, we think it's safe to say that the victories of these two Indian athletes need to be applauded! After all it's not about the gold, silver, or bronze, but about reaching the stage where Sakshi Malik and Sindhu reached! It's not about winning, it's about putting up a great fight, and we all saw how well a fight our athletes put up!
Stay tuned to this space for news on everything trending!