An Emirates flight coming from Thiruvananthapuram, India crashed landed at the Dubai International Airport. All 300 people on board were able to escape from the burning aircraft, killing one firefighter in an intense blaze and bringing the world's busiest international airport to a halt for several hours.

The Landing
The Boeing 777 appeared to have landed on its belly, and images showed thick black smoke rising into the sky. The aircraft departed from Trivandrum International Airport in Thiruvananthapuram, Kerala at 10:19 a.m. local time and was scheduled to land at Dubai International Airport at 12:50 p.m. local time. Emirates said Flight EK521 was "involved in an operational incident upon landing." "We can confirm that there are no fatalities among our passengers and crew. All passengers and crew are accounted for and safe," Emirates said in a statement today. But one firefighter was killed while battling the blaze, Emirates Chairman Sheikh Ahmed bin Saeed said at a news conference today. Saeed declined to confirm that there were any issues with the Boeing 777's landing gear, but he said the plane's inspections were up to date, without providing details on the checkups. The plane's pilots have more than 7,000 flight hours of experience, he added. He also paid tribute to the firefighter who lost his life fighting the blaze.

The vast majority of those on board the plane were Indian citizens and 24 were from the United Kingdom. All passengers and crew members were evacuated safely, according to the Dubai government. Dubai Airports, the owner of Dubai International Airport, announced via its official Twitter account that all departing flights were being delayed because of the incident. The airport reopened at 6:30 p.m. local time today. Emirates airline said it expects an eight-hour network delay.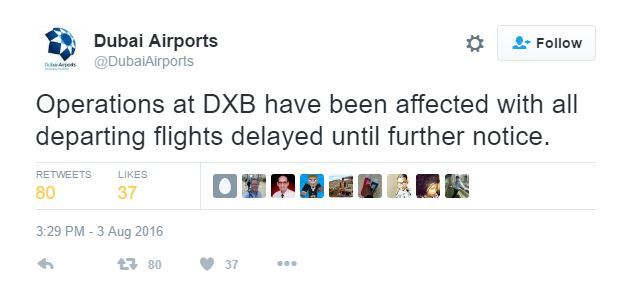 As is usual following an air crash, there are lots of unconfirmed reports out there speculating about what happened. The aircraft is sitting on the ground without its landing gear, but it is not clear why the wheels are not down. Air crash investigations are still on going and the answers should be out in the next few days.