The land of various traditions, innate cultures, ingrained customs, loads of vigour, umpteen colours, hundred types of foods, different kinds of people, with so many places to be, royal people to meet, dances, songs and instruments! Hues of energy just fly across the sky when you land into this place. Every person who has been to this place has always had a good journey because they made wonderful memories! Such is this place, oh so unforgettable!
Although, if you ever noticed, there is one thing very distinct about this place! Besides its super enthusiastic yet rooted people, it is this distinct style they have in terms of conducting events. The state is dynamic in this arena and is specially known for certain famous festivals that fall in the coming three months of winter (which, by the way, is the best time to visit Rajasthan)!
Wanna know which? Find out here!
October
1. Marwar Festival
Previously called the "Maand Festival" , this one is known for taking place during the full moon occurrence (Sharad Poornima). It is a two day festival that takes place in Jodhpur. With special Rajasthani folk dance and music, it is more like a tribute to the folk heroes of the state! There are dramas based on the myths and stories revolving around the place. There is also horse polo, horse riding in the name of competitions and camel tattoo show too!
Where: Umaid Bhavan Palace, Mandore and Mehrangarh Fort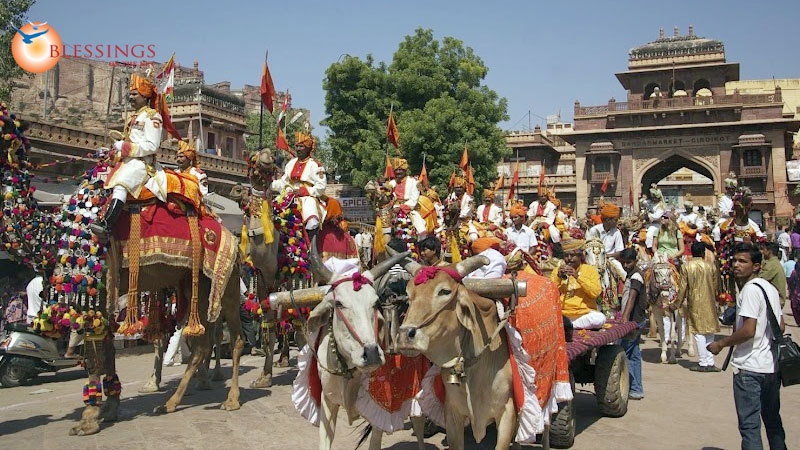 2. Ashwa Poojan
This festival hosted by the royal Rajasthani family of Mewar is all about worshipping the horse by the owner of the family! It is known as the Worship of the Horse because it is to honour the special relationship of the warrior and his horse. This ritual is accompanied by the royals' palace band! What's most delightful is the food that is served during this festivity; there is absolutely nothing like it! It takes place on the ninth day of Navratri in Udaipur.
Where: Udaipur City Palace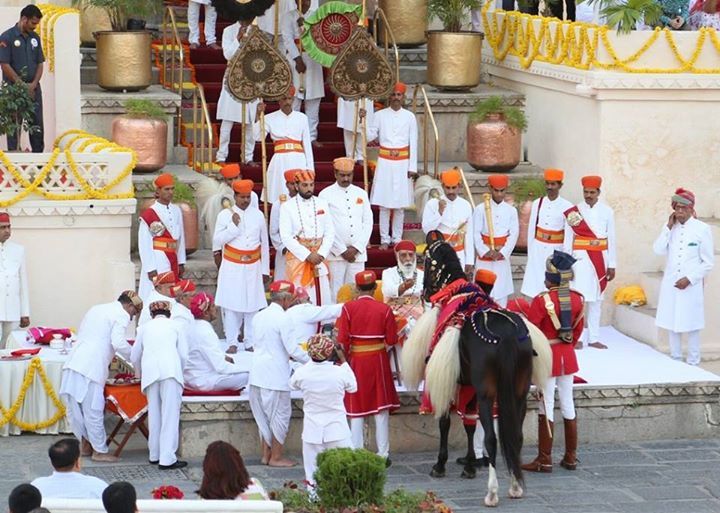 3. Rajasthan International Folk Festival
Definitely one of a kind in this country is this event which majorly focuses on the origins of music, dance and the different art forms here. It is forward, artistic, interactive and above all highly educative. They also have staged performances and late night jam sessions with singers, dancers, instrumentalists and storytellers from different communities of Rajasthan. The fest is so huge that they even bring in artists that are known nationally as well as internationally!
Where: Mehrangarh Fort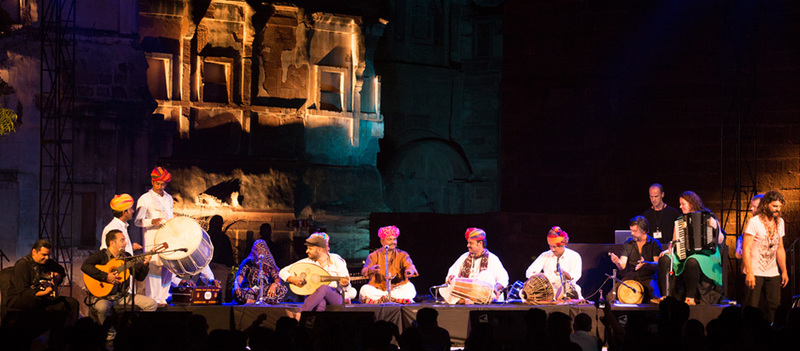 November
4. Pushkar Fair
With a global attention, this festival is famous for its folk music and dance, camel safari tours, colourful village shops, traditional eateries, camel (or even goat, horse, cow, sheep) trading, camel dance, cattle auctions, fairs, live dances, fireworks, desert camps, camel races, and various competitions like matka phod, longest moustache, turban tying, balancing on camels. This is apparently the best festival ever in the state and gains maximum tourism. The event falls on the full moon day of Kartik Purnima where people consider 'washing away' their sins by immersing themselves in the Holy Pushkar Lake! This five day mela is a public show, post which the animals are dressed up in beautiful paints, ornaments and clothes ready for display!
Where: Mehrangarh Fort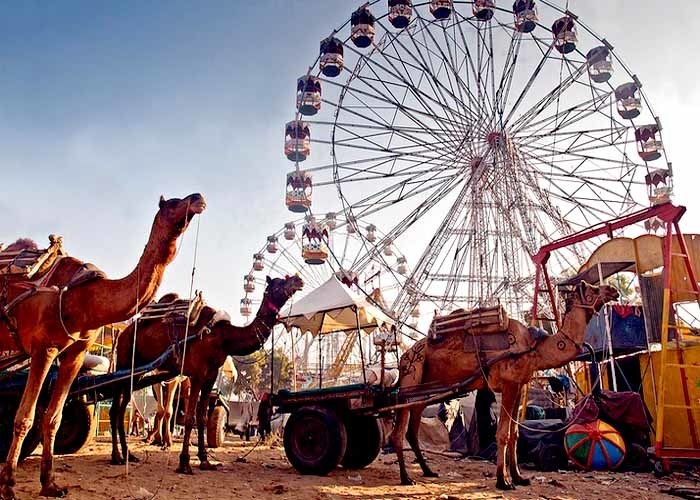 5. Kolayat Fair
Known as the Kapil Muni Fair, this carnival takes place on the banks of Lake Kolayat. Devotees again immerse themselves in the water to 'wash away' their sins. The sight is extremely beautiful mainly because all the 52 ghats along the banks are lit up. People offer prayers, milk, sugar, sweets and puddings to the deity. By the end of the day, swarms of diyas are floated across on leaves in the lake.
Where: Kolayat Lake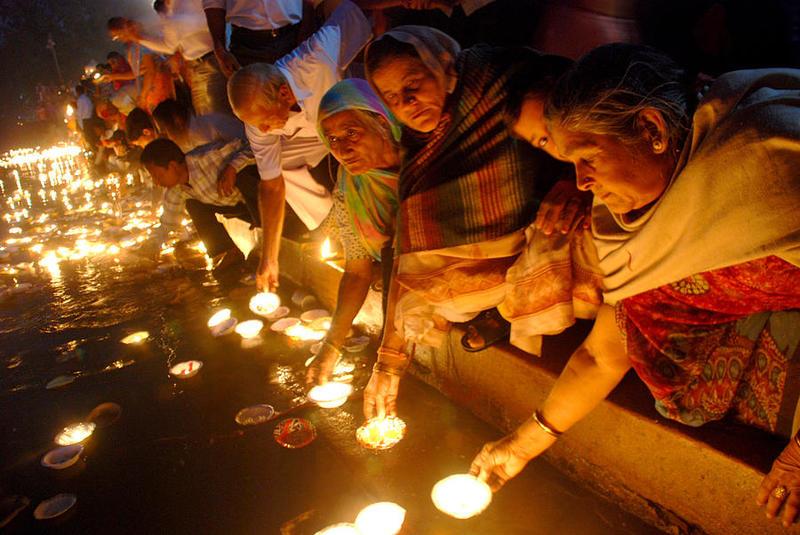 December
6. Camel Festival
This festival, also known as the The Ship of the Desert is all about camels! There are unconventional performances, dances, bumpy neck shaking camel rides, camel foot works, beautifully decorated camels competing in camel pageants on day one, competitions like best camel haircuts and camel milking, followed by camel races on the second day. Both the days end with a lavish dance and music program by folk artists, skirt swirling dancers, fire dancers and fireworks too.

Where: Bikaner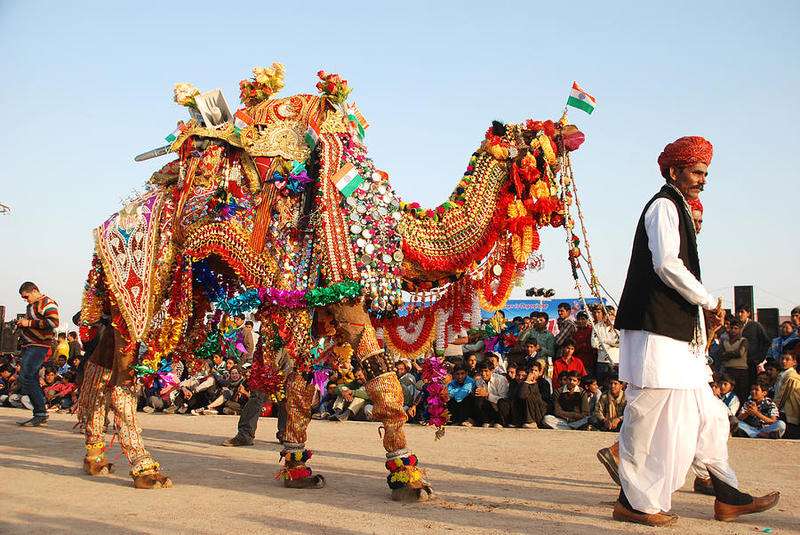 7. Mt. Abu Winter Festival
In the cool, serene and hilly regions of Rajasthan lies Mt. Abu known for its Winter Festival! Various ceremonies, different forms of folk arts, fireworks, camel worshipping, elephants, sculptures and competitions like skating races, boat races, horse races and tug-of-war take place here! Not just tourists but even locals enjoy this festival to the fullest! It takes place in the last weekend of the month and lasts for three days.
Where: Mt. Abu