Who's the most bizarre fashionista of all time? Touche! It is indeed LadyGaGa! (That was a no brainer anyway)
As we all know, her taste in fashion has been a major area of concern with the paparazzi and also in terms of funniness, they rank the highest. They are not just bizarre but also icky to some level. The best example being the infamous or famous (you can decide) raw beef dress she wore to the MTV Video Music Awards. In the past, she has not only turned heads and scared off Eminem while receiving her award from him; but also has a separate Wikipedia page dedicated to 'The Meat Dress' dress. Yes, that is indeed true. Crazy, right?+
Taking inspiration from her or vice versa, here are some dresses from the ramp that shocked us and made us laugh to such a level that we actually have started to question..Fashion designers or fashion disasters? Let's have a look..
WEIRD NOT-EVEN-EAXCTLY-ROUND RUFFLE DRESS
Honestly, we cannot even decide if this is a man dress or a shirt paired with those checkered pants; whatsoever, these giant oddly shaped oranges are sure to make one laugh.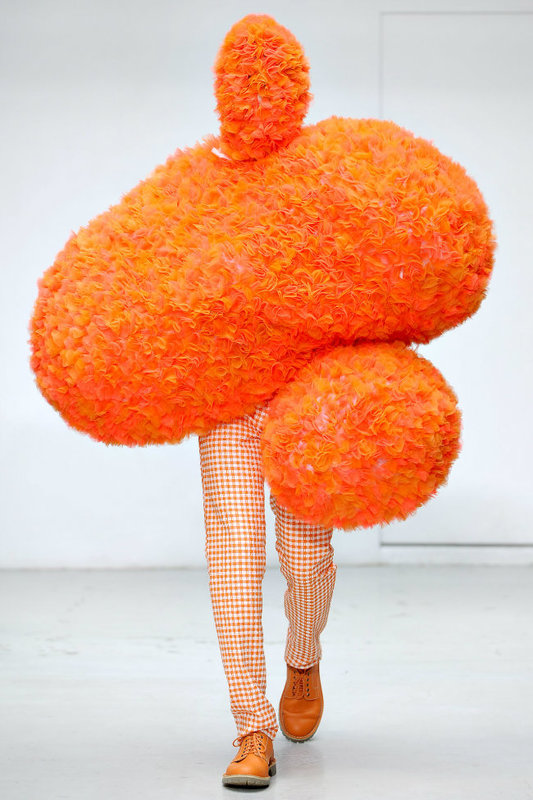 MAN ALA WOMAN
So what is more abysmal? The baby pink blazer or the green skirt with the lady like socks or the helmet with the funny eye make-up? Without the face, this outfit could only remind us of a sporty grandma from the 60s!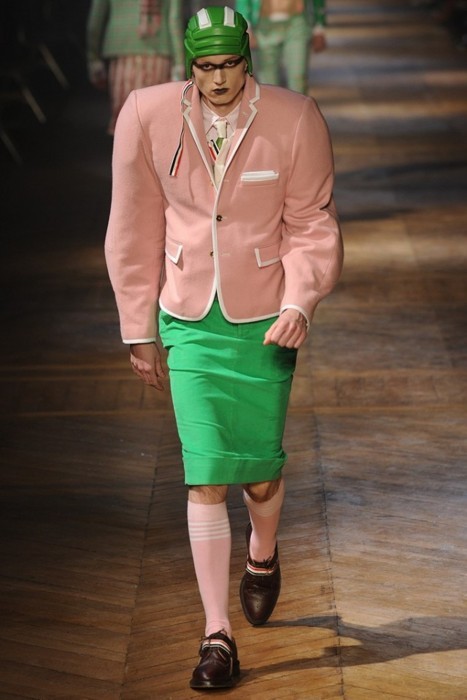 CARDBOARD TRENCHCOAT
Cardboard on a trench coat or trench coat on a cardboard? Boy, it's just too deep to fathom. Especially with that ghastly hairdo, oh god.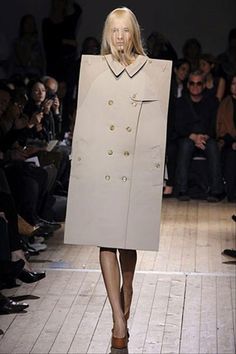 CHALTA FIRTA MELA
Those humungous eyes, those rainbow balloons and those ugly flying French fries in the background! We think you too are laughing harder than you actually should be. LMAO!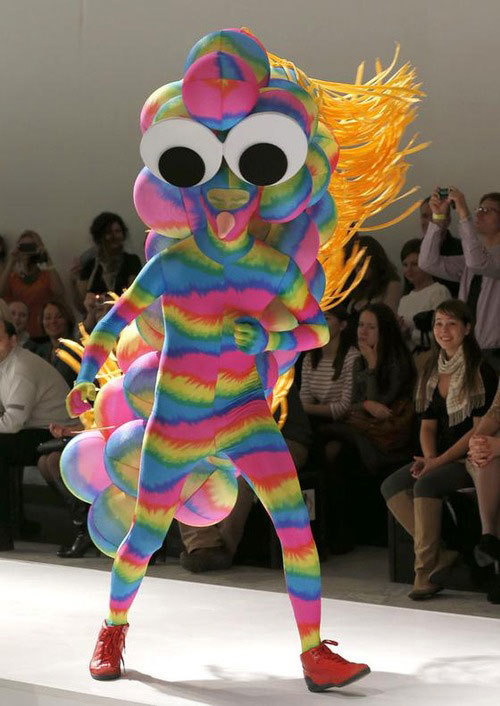 WANNA PEE? WORRY NOT 'CAUSE..PORTABLE URINAL
As disgusting as it sounds, it looks even worse. A urinal on a model? Fashion designers, seriously, what are ya'll doing! 'Em gotta reconsider this one at least.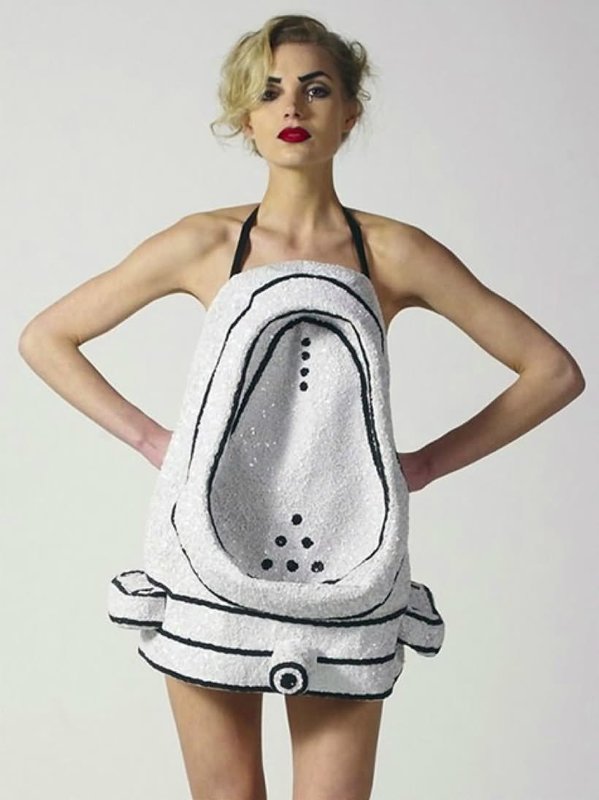 POLKA MONSTER MAYHEM
This little international version of Vikram and Betaal combination is a sure shot bummer dress and the popping colours just add to the hilariousness of the same. That ugly nose gear is surely going to grab some eyeballs!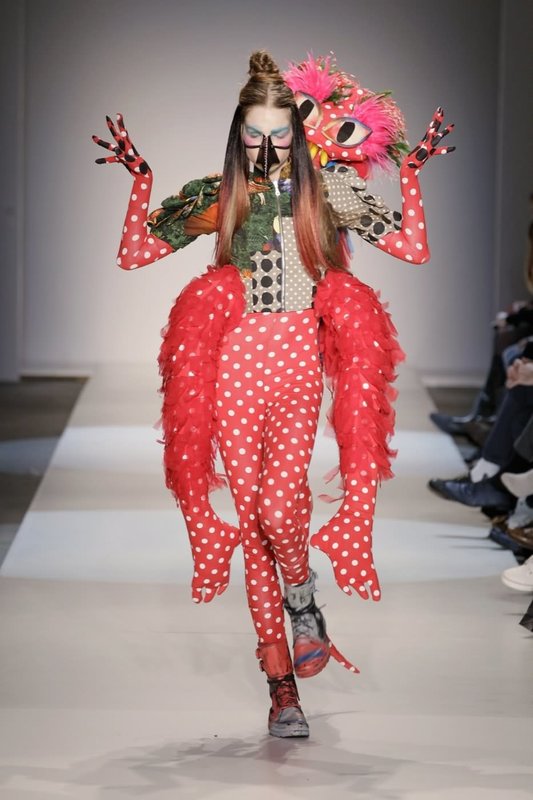 BEARD FACE
So if nothing was enough so far, we also have a beard in blonde hanging off the face of this model. We don't understand who would want to wear hair on their body especially when everybody is actually trying to get rid of it. Ugh.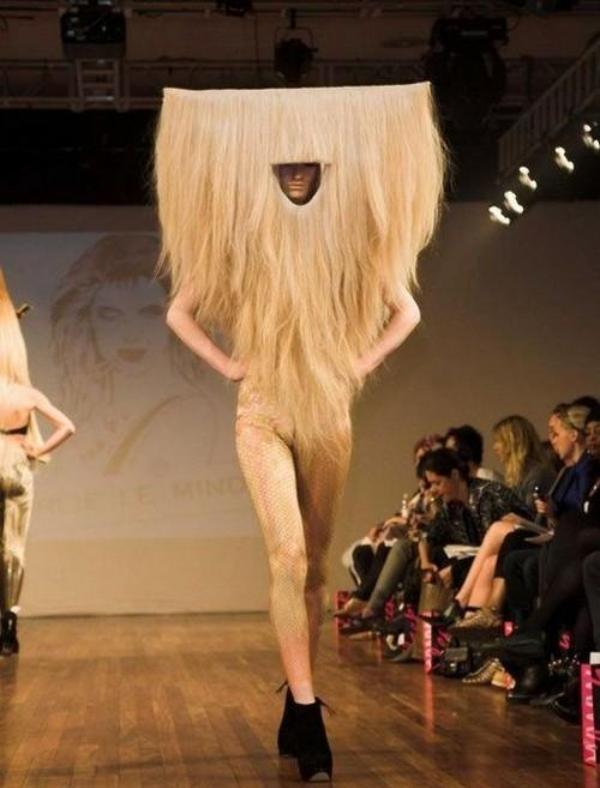 OH GOD WHY
Here comes a legit OMG moment! Literally spiky hair, crop top, printed blazer, mitten and mitten-like printed skirt..what? What? WHAT?! Please, it hurts le eyes!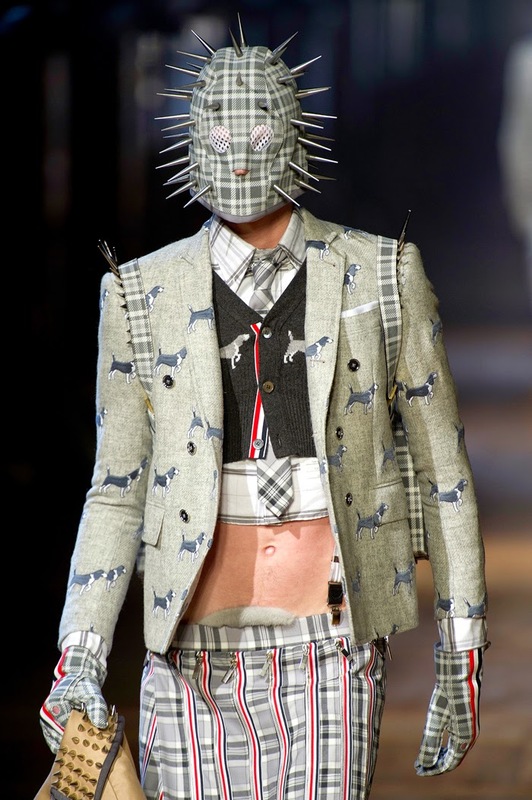 FRUIT BERRY GONE WRONG
This one looks rather like a hybrid of a fruit berry and a wild vegetation left unattended, growing in every direction.
PS Bonus of the beetroot leggings.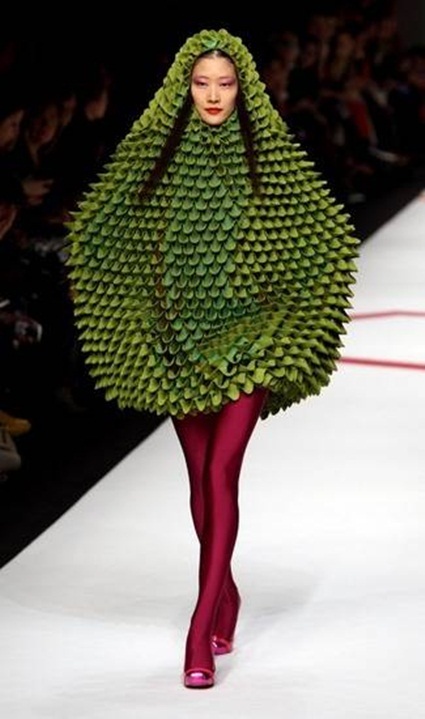 WOOLEN MESS
As neat as it looks, it is actually quite messy. The reason being, it just messes up your mind and you're constantly going like what the heck is happening! It looks like a tampon for good god's sake!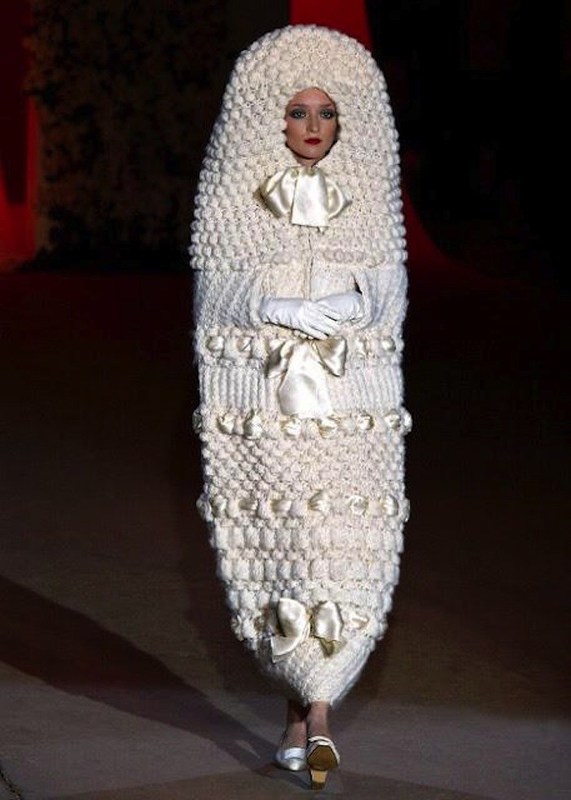 So the bottom of the story is that we hope you do not end up in either of the outfits above or even inspired by the same, because we do care about how you look. Hahaha, do not mess it up folks!